Im Frühling, wie es mir wirklich nicht gut gegangen ist, hab ich ja mit Yoga, nach vielen, vielen Jahren wieder begonnen und es hat mir soooo gut getan. Aber wie das Leben so ist, sobald es mir wieder etwas besser ging, hab ich wieder damit aufgehört. Böser Fehler!
[When I had my break down in spring, I started doing yoga after many years again and it was sooooo good for me. But as life goes by, when I was back on track I stopped ... really bad decision]
Im Sommer bin ich dann auf Briana und ihre BBM Challenge 2.0 gestossen. Ich bin zwar keine Mutter, hab aber trotzdem Übergewicht ... und wollte einfach wieder etwas fitter werden. Das hat im September und Oktober gut geklappt. 6 Tage die Woche kurzes Workout nach der Firma ... und man hat wirklich auch Ergebnisse gesehen. Dann kamen die Flitterwochen und ..... was soll ich sagen ... außer am Strand liegen und Cocktails schlürfen war nicht. Und wieder daheim hat die Motivation gefehlt.
[During the summer I over Briana and her BBM Challenge 2.0. I am not a mother yet, but I weight way to much for my own good ... and I wanted to be more active. In september and october it was not a big deal doing the workouts 6 days a week after work. It was easy at home, you need almost nothing to do it.... and you could see something happend to my body. BUT than Mr. W. and I gone to our honeymoon holiday ... and what shall I say. We only were lying on the beach, enjoying and drinking cocktails YUMMY. Back at home I had lost my drive and motivation.]
Ich weiß, ich bin ein klassischer Couch Potatoe und deswegen leg ich mich vielleicht bisschen weit aus dem Fenster aber ... ich habe gefunden das meine Lieblings Yogi
Adriene
aus Austin Texas eine 30 Tage Challenge auf Youtube bereitstellt. Ich bin sowas von dabei. Und
Briana
ist bei Challenge 3.0 angelangt.
[Although I am the classic couch potatoe, and therefore maybe I want to much yet ... but sometimes you need to want to much .... I found that my beloved Yogi Adriene from Austin Texas provide a 30 days of Yoga Challenge on Youtube. I am absolutely in!!! And Briana is procasting her Challenge 3.0.]
Ich bin sowas von dabei. Und Jolly mit mir! Das ist auch gut so ... hätte gleich am ersten Tag der
BBM Challenge
meinen Hintern nicht hoch bekommen, aber mit ein bisserl anstupsen von Jolly kein Problem.
[I am in, I am in, I am in!!! And Jolly is on board too as my responsibility partner! And thats really important to me, because without her me fat ass would have staid on the couch yesterday. ]
Bei der
30 Days of Yoga Challenge
von Adriene bin ich einen Tag später dran und somit heute erst bei Tag 4. Trotzdem spür ich wie ich es meinen Körper gut tut und ich bewusst gerader da stehe oder sitze.
[Today it was Day 4 with the 30 Days of Yoga Challenge for me, I know one day late, but as Adriene always says ... there are no rules and find what feels good ;) and on january 2nd I was so not able to do anything. Working on years end report and so on. But since the 3rd of january I looking forward each day to hope on my mat and have a date with Adriene. And I am feeling how my body appreciate the effort and how I now standing and sitting more upright in a good way.]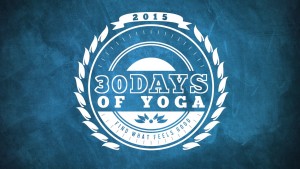 BBM und Yoga heute: check!
Ich hoffe, ich bleib dabei, macht noch wer von Euch mit?
[BBM and Yoga today: check! I hope I can move on and do not lose my motivation. Will somebody join us?
Now I'm just heading over to SugarBeeCrafts to her lovely Take A Look Tuesday]